Description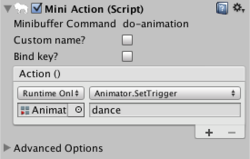 Add a command that runs an action.
Here are some potential general uses:
Trigger an animation.
Enable or disable a game object.
Enable or disable a component.
Run a method on a component.
Here are some fun specific uses:
Play *badum tish* when your joke falls flat at the game expo.
Activate your disco ball. "What? Your game doesn't have one? You need one."
Actions are fully specified in the inspector. By default the command is "do-<game-object-name>". One can also set a key binding.
See also